Who we are
We're a hard-working team of people who are obsessed with reinventing audio.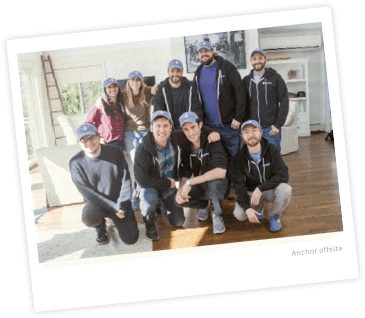 We're also:
Passionate
People who work at Anchor are passionate - not just about their jobs or audio or helping people get their voices heard, but about all kinds of things. You might be a musician, or have an interesting side project, or volunteer outside of work. Whatever it is, we all care deeply about our shared and personal missions and the ways we impact the world around us.
Collaborative
We've built our company culture around  collaborative  people. We expect everyone to work together, be willing to help with projects outside of their comfort zones - whether that's learning a new skill, brainstorming a wacky idea, or helping to build furniture - and have the confidence to ask for help when it's needed.
Creative
The members of Team Anchor are  creative, both professionally and personally. We laugh a lot. We're always willing to humor strange conversations, because they lead to the best ideas. We all bring our unique life experiences to work with us and use them to guide us in building a platform that delights a huge variety of people constantly. And of course, we're all constantly launching our own goofy podcasts.
Not assholes
Most importantly, everyone at Anchor is  not an asshole. We know that nothing matters more than being kind to our coworkers and ourselves. We pride ourselves on making connections with the very awesome people using our product every day, and remember that everything we do, we do for them. We go out of our way to help our coworkers, whether that's by pitching in on a project or just offering positivity when it's needed.